The pool in front of you swirls with water laced with a mysterious magic. Who knows how long it's been here? You can never be sure, but you have a good feeling about this pool.
Effects: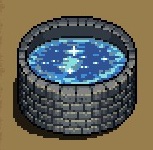 Gradually Regenerate Health
(Champion!) buff 10 turns
(Burn) debuff 7 turns
(Poison) debuff 10 turns
Sick Nasty debuff 100 turns
Increase Foom by 1 (Permanent)
Increase Science by 1 (Permanent)
Increase Skill by 1 (Permanent)
Ad blocker interference detected!
Wikia is a free-to-use site that makes money from advertising. We have a modified experience for viewers using ad blockers

Wikia is not accessible if you've made further modifications. Remove the custom ad blocker rule(s) and the page will load as expected.